Dr Cindy Reichel
Title: Tech demo and concept: Can AI be your cover band?
Bio:
Dr. Reichel is an experienced software developer, data scientist and musician, with expertise in AI and bioinformatics. Her work explores how to leverage AI algorithms for the production of original music that captures the style of an artist. She holds a Ph.D. in Genome Sciences from the University of Washington and a B.S. in Computer Science from the University of British Columbia.
Adeboye Dada
Title: Changemaker Incubator (CMI)
Bio:
Adeboye Dada is a Senior Lecturer at the University of Northampton, Senior Fellow of Higher Education Academy, and Fellow of the Chartered Management Institute UK. Adeboye leads research, teaching, and learning within the fields of Business Management and Entrepreneurship curriculum.  Passionately promoting the essentiality of entrepreneurial learning willingness among small businesses, broadly conceived over the years. Adeboye's teaching and research philosophy resonate sound allegiance to both traditional and contemporary drills through an affirmed passion for dynamism and paradigm of multiple realism to being resourceful. Highly proficient in collaborating effectively with all stakeholders and embracing the highest strategic innovative entrepreneurial slants. Converging a new wave of entrepreneurial curriculum development, and leadership, through operational and strategic alignments of small tourism businesses digitalisation.
Niall Hendry
Title: AI-POWERED, REAL-TIME, MARKERLESS:
THE NEW ERA OF MOTION CAPTURE
Abstract:
Move.ai brings markerless motion capture to the masses. Using the Move.ai app, creators can capture high-quality motion data. And through Move'ai's partnership with disguise, the Invisible Solution is powering real-time markerless motion capture across xR, Virtual Production, Live Events and Location-Based Experiences. Move.ai's patented software extracts natural human motion from video using advanced AI, computer vision, biomechanics and physics, automatically retargeting the data to your character rig. Capture footage in any environment, using an iPhone, with no suits, markers or additional hardware needed. Move.ai captures performance data from anyone, anywhere.
Bio:
Niall is VP, Partnerships at Move.ai Niall is a specialist in deploying & productising AI-powered real-time and post production technologies for Media, Entertainment & Sport.
https://www.linkedin.com/in/niall-hendry-065ab24b/ 
Andy Gower
Head of Immersive Content & Comms Research, BT Research & Network Strategy
Bio:
Andy Gower leads BT's research activities on Immersive Content and Comms at BT's Global Research & Development Centre at Adastral Park in East Anglia. His team is currently focused on exploring how 5G and edge-GPU compute can deliver next generation immersive communication experiences. Andy's broader interests are concerned with how future XR Metaverse services have the potential to change the way we live, work, play, and connect. Andy regularly publishes and presents at industry events and holds several patents in the field of interactive media.
https://www.linkedin.com/in/andygower                        https://twitter.com/andygower
James Uren
Bio:
James Uren is the Technical Director at Mo-Sys Engineering and on-set Virtual Production Supervisor. Mo-Sys design and build robotics, tracking systems and software for film and television that enable visual effects and virtual production. Credits include The Curious Case of Benjamin Button, The Social Network, Life of Pi, The Shape of Water and Aquaman, and serial television credits include Stranger Things, House of Cards, Sherlock, Orange is the New Black among many more. In broadcast Mo-Sys have supported the likes of the BBC, ESPN, FOX, Sky and The Weather Channel.
Mo-Sys' precision tracking technology opens the door to full virtual production, where real-time graphics engines such as Unreal Engine can be used to create photo-real visual effects, and aid pre-production, production and post.
Hannah Blows
Title: Easel
Bio:
An avid listener and questioner who enjoys tunnelling end-to-end and front-to-back through existing systems and processes to uncover opportunities for improvement. Her previous experience is in front end web programming, animation, and graphic design, with qualifications from University of the Arts London, and University of Brighton.
Szczepan Orlowski
Title: Easel
Bio:
Distilling problem spaces into tangible software, untangling brainteasers and coordinating development process. Background in social communication, scriptwriting, and full-stack programming, with degrees from University of Warsaw, Royal Academy of Dramatic Art, Birkbeck, and Queen Mary's School of Electrical and Electronic Engineering.
Elisavet Christou
Bio:
An inter and transdisciplinary researcher and educator, Lecturer in Management and Organisation Studies at the Lancaster University Management School. My work combines theory and practice from design, computing, art, management, evaluation and biophysics, with the aim of developing novel methodologies, methods and tools for applications in real-world contexts. Founder and director of the EViD Tool (Evaluation Visualisation Design Tool).
https://www.linkedin.com/in/elisavet-christou-123a7427/                        https://twitter.com/ElisavetC
Pınar Ceyhan
Bio:
Pınar Ceyhan is an International Lecturer in Design, at the Lancaster Institute for the Contemporary Arts, Lancaster University.  She is the Lancaster University Programme Lead in Advertising and Branding and in Communications programmes at Sunway University in Malaysia, a Lancaster-Sunway academic partnership. Her current research focuses on evaluation design, methods, and processes, as well as the role of experience design in cognition and meaning-making. Along with Elisavet Christou and Philip Ely, Pınar is the co-founder and co-director of Fabrikator LTD, developing EViDTool. 
Dr Philip Ely FRSA
Bio:
Dr Philip Ely FRSA is a design practitioner and researcher with an interest in design-led innovation. He has held senior positions in both academia and industry and was the lead designer and editor of The Climate Domesday Book—a hybrid print-digital 'book-of-the-future' exhibited at John Curtin Gallery in 2022. Philip is the Editor-in-Chief of the Journal of Design, Business & Society and was recently appointed Reader in Design at Manchester Metropolitan University. Dr Ely is a co-founder of Fabrikator Ltd, the Lancaster-Curtin University spin-out developing EViDTool. 

Jeremy Foss
Bio:
Jeremy Foss is a Chartered Engineer and a senior lecturer in Broadcast Engineering at Birmingham City University, UK. He developed the university's successful Broadcast Engineering BEng and MSc programmes. He is situated in the university's DMT Lab. where his research interests include in-video personalisation and interactive broadcast media with specific interest in object based media placements, metadata, smart contracts for commercial media, production and playout architectures. He also works on the development of low latency real-time networks. He is involved in standards development with the MPEG group and ETSI. Prior to his academic role he had thirty years' experience in research and development in telecommunications, including work on virtual environments, mobile network development, intelligent agents and broadband IPTV solutions.
Johnny Lee
Title: Visualising Success: Transforming Module Briefs into Engaging Posters for an
Inclusive Learning Journey
Bio:
Johnny Lee's passion lies within higher education and the desire to lead innovation within a wide range of Virtual Learning Environments (VLE) as well as instructional design projects applying UX and UI visual design principles to digital learning. He brings organisational change through demonstrating and promoting inclusivity, neurodiversity, and innovative learning design approaches to enrich students' learning experience. Johnny is an associate lecturer on the BA (Hons) User Experience and User Interface Design course at Ravensbourne University London. He has 10+ years of leadership in VLE and UX and UI instructional design experience within Europe, America, and Asia. He is an accomplished UX/UI designer. His areas of expertise include, interactive design, user interface design, user experience design,  ccessibility in digital education, and learning experience design. Prior to teaching at Ravensbourne,  Johnny worked internationally on UX/UI design projects in Europe, United States and Hong Kong. His  award-winning learning innovation initiatives are across a range of sectors, including healthcare, education, and sustainability. Johnny's achievements include fellow of HEA (Higher Education Academy), CMALT (Certified member of Association for Learning Technology) and Microsoft Innovative Educator  Expert. He was a committee member of ALT Annual Conference, and reviewer for Research in Learning  Technology Journal. As an active contributor in learning design communities, he shared his expertise internationally in the University of Liverpool Centre for Innovation in Education podcast, University of East London Learning and Teaching Symposium and Hong Kong International Learning and Teaching Expo. His writings on learning innovations are published in THE (Times Higher Education) Campus and e-learning industry.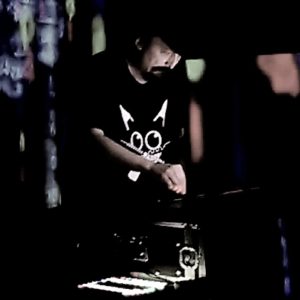 Marius Matesan
Title: MONDO 2000: R.U. Against NFTS & MozFest Trustworthy AI
Bio:
Marius Matesan, PlayLa.bZ CIC Co-founder, FreekLabs & FreekMinds Founder, Ravensbourne University London Honorary Research Fellow is known for his collaborations with award winning directors on theatre stages across Europe and immersive theatre festivals in the UK, more recently producing award winning mixed reality experiences, such as the Stationer's Innovative Application of Digital Technologies award winning LoopSpace and HoloPortal; the InnovateUK Grant winning multidimensional social casting medium – GenieMo, with works featured at the V&A, TATE, Somerset House, BoomTown Fair, IBC, MWC, BBC Click, EVA Conference and JISC, a musician at heart and a multidisciplinary mixed media artist in action, in the last 5 years he has been collaborating with award winning innovators and creatives in pioneering storytelling, prototyping and communication with immersive technology in arts, education and research within Ravensbourne University and UAL.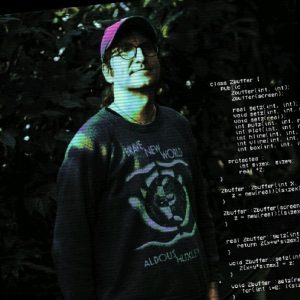 James E. Marks
Title: Synthesis 5.0 – Multi-dimensional Motion Arts For Social Good
Bio:
James E. Marks, PlayLa.bZ CIC Co-founder, PsychFi Founder & Ravensbourne University London Honorary Research Fellow a switched on screenage innovator & changemaking spatial computing arts co-creator, immersive experience designer, marketeer, educator, curator, artivist, renegade economist & tech volunteer. His pioneering multi-award winning, multi-platform & multi-dimensional motion arts highlights include: British Film Institute,The Guardian, BBC Click, MozFest, V&A, Tate Modern, Boomtown Fair, Design Museum, MOMI, Lovie Awards, Webby Awards,Vice, Disney+, IBC, MWC, Glastonbury, Jisc, Stationers Awards For Innovation, Innovate UK, UAL, University Of Surrey, Kings College London, University of Bristol, MONDO 2000, Breaking Convention, London Fashion Week, ComicCon, Chartered Institute Of Marketing, Ninrendo, YouTube, EA, Square Enix, Universal Music, British Red Cross, Trees For Cities, RSC, ArtFutura, The McLuhan Institute, WTA Tour, Cambridge Wireless & London Design Week.
Guillaume JÉGOU
Title: Physiological and Behavioral Analysis with AI, in Virtual Reality
Bio:
With a dual educational background in Multimedia Design and the Psychology of Cognition, he has worked since 2000 within the Language and Cognition Laboratory (CNRS) on the hypermedia conception and adoption. In 2004 he took his experience combining technology and the humanities to the field of HMI ergonomics consulting within multiple consulting firms. He has worked on many R&D projects in the field of graphics, voice, and multimodal interaction, particularly with Orange Labs, and has helped design innovative services now used by several thousand customers. Beginning in 2007, he was the chief ergonomist, and later Technical Director of Dixid, a leading small business in the field. In 2011, he took over "User Experience" projects for the Alten Group, which included over 40 experts, and led about one hundred R&D projects for the Group's clients. In 2014, he joined b<>com as Manager of the Human Factors Technologies lab, and works as part of a multidisciplinary teams to innovate in the field of User Experience.